Character you wish to be(name): Tairu Szoola
Characters Gender: Male
Character's Race: Sayian
Character's appearance: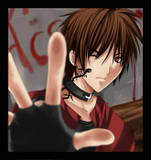 Age: 14
Aura Color: Black and Red
Height: 5'9
Hair Color: Brown
Eye Color: Blue
Friends:
Enemies:
Master: Master Tonz
Students:
Clan:
Characters Techniques:
Planet you want to start on: Planet Vegeta
Characters story:
Tairu is a young sayian. Tairu searching for who he really is. Tairu is also trying to master a whole bunch of attacks and prove his worth and become king of his own planet. Tairu in search of getting more power spots a battle dome on planet Vegeta where he can train. He is bossed around alot by a instructor named Joe. Finally while Tairu is being pushed a wise Master Tonz comes to train him. Master Tonz tells Tairu to find his earring. Tairu finds it just for him to throw it. Tairu questions whether or not this is real training or he just wacky. Tairu stays cause he said the real training is about to begin.
Last edited by Tairu on Thu Dec 31, 2009 8:49 pm; edited 1 time in total